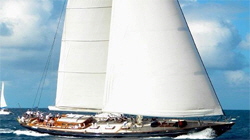 Charter Special: Chartering superyacht Shamoun in Asia
At the 2013 edition of the Singapore Yacht Show, Yachting Partners International (YPI) was present to show the exquisite 33 metre sloop Shamoun. Although undeniably modern with regards to luxury and comfort, she has a distinct traditional look that is reflected in many of her design features, such as a huge wheel and the classic binnacle. Shamoun is particularly rich in ambience, luxury amenities and offers four spacious suites to accommodate her guests in style. Shamoun won the coveted "Best Superyacht (Sailing) Award" in the Singapore Yacht Show 2013.
To continue reading this article please click here.